Mascots
So your school's mascot is an apple, or a LION! Petrus Productions can help you bring your mascot to life! Anything.... from that shiny green apple - to an Easter egg to a growling Bear or Lion.... and it wont cost you an arm and a leg. Contact us for more details!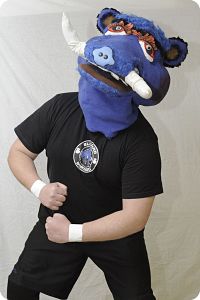 Industrial Theater
Don't know how to approach a training session or teach a company value or principle ... what about using marionettes to bring the core values or work principles across? We meet up with management and make sure we understand your needs and rewrite that needs into a great interactive adult marionette show to make your life so much easier! Be different - and book us now!
Motivational Speeches
Having a woman's tea or breakfast for men? Tired of doing the same stuff over and over again. Let a Marionette change the lives of even the "hardest" man by telling them their story. Fun and exciting and totally moving. You will need a tissue to wipe away your tears!